Professor Stephany Griffith-Jones - Economist
Press Articles (see video interviews below)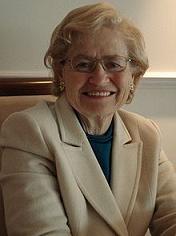 Griffith-Jones: "La izquierda en Chile es más pragmática que la derecha" - El Mercurio - 16th Nov 2017 (.pdf of article)
Robin Hood had the right idea: Why the left needs to deliver on the financial transaction tax - International Politics and Society Journal (republished in openDemocracy) - 27 August 2017
Progressive Alternative Policies Are Essential Now - Social Europe - 6 February 2017
Book notes: Achieving financial stability and growth in Africa - Central Banking - 19th October 2016
Can Obama Rescue Britain From Cameron's Self-Inflicted Brexit Catastrophe? - Background Briefing with Ian Masters - 21st April 2016
Pragmatism is required amid Greek deal stand-off - Financial Times - 18th February 2015
Europe will benefit from Greece being given a fresh start - Financial Times - 22nd January 2015
Time is running out for the eurozone - The Guardian - 1st December 2014
Juncker's investment plan: good, but too small - EurActiv - 27 Nov 2014
Stephany Griffith-Jones sobre China: "El sistema bancario en las sombras está demasiado laxo, es peligroso" - Pulso - 27 November 2014 (also see the .pdf version here)
Fünf Millionen neue Jobs - with Giovanni Cozzi - Die Zeit - 22 September 2014 (also see .pdf of article here)
The Economic Consequences of Scottish Independence - Ian Masters Radio programme - September 15 2014
Novo Banco De Desenvolvimento - with Barbara Fritz and Marcos A. M. Cintra - Valor Econômico - 21 August 2014
The very logic that led us into trouble - with Marcus Miller - Financial Times - 14 August 2014
The need for investment-led recovery in Europe - Financial Times - July 28 2014
Brics ampliam segurança do sistema financeiro? Sim - with Barbara Fritz and M. Cintra - Folha De S. Paulo - 19 July 2014
Bringing Europe back to life using investment - with Giovanni Cozzi - Economic Policy Viewpoint - July 2014
Solar tipped to be big winner from US$50 billion BRICS bank (quoted in article) - PVTech - July 22 2014
Brics ampliam segurança do sistema financeiro? Sim - Folha De S,Paulo - July 19 2014
Can BRICS development bank become a rival to the World Bank? (quoted in article) - Christian Science Monitor - July 16 2014
The New BRICS Bank and U.S. and E.U. Sanctions on Russia - Ian Masters Radio programme - July 16 2014
A new BRICS bank to mark global shift - Financial Times - June 3 2014
Opposons un nouvel idéal égalitaire à une politique d'austérité inefficace with Jean-Paul Fitoussi, James K. Galbraith, Joseph E. Stiglitz, and others - Le Monde - May 22 2014
Interview in Portuguese Press - Semanal - March 27 2014
Time to end the G-20 charade (quoted in article) - Live Mint - Feb 24 2014
Germany wants the Robin Hood tax – and Europe's voters do too - The Guardian - October 30 2013
October 10 - How Washington's Suicidal Brinkmanship Looks to International Economists; Janet Yellen and the Wall Street Glass Ceiling; The Koch Brothers Distance Themselves from their Tea Party Protégés - Ian Masters Radio programme - October 10 2013
Europe's economic crisis: some ideas for recovery and growth with Matthias Kollatz - The Guardian - 16 August 2013
From Austerity To Growth – One Lost Year And The Danger To Lose More with Matthias Kollatz - Social Europe Journal - 31 July 2013
US-China 'grand bargain' needs to benefit all countries - Financial Times - June 2013
Transforming finance: banking for the real economy - The Guardian - May 2013 (go to link to watch video)
A Financial Transaction Tax - Published in Fabian Society booklet 'The Great Rebalancing: How to fix the broken economy' - Jan 2013. Find the full booklet on the Fabian Society website here.
Osborne will score a financial own-goal tomorrow with Jack Gray, New Statesman - 11 Dec 2012.
Protecting Developing Country Growth from Global Shocks, with Dirk Willem te Velde - Triple Crisis Blog - July 30, 2012
Proposition pour financer l'investissement, la croissance et l'emploi en Europe with Matthias Kollatz-Ahnen and Lars Andersen - Le Monde - 2nd July 2012
Proposal to finance European investment, growth and jobs - EurActiv - 29 June 2012
Stimulating Europe - Financial Times - June 18, 2012
An Historic Moment for the IMF - Financial Times - 29 May 2012
Sensible to foster infrastructure spending - Financial Times - 27 April 2012
Radio Interview on European Debt - by Ian Masters - 16th April 2012
The Global Economic Crisis: Can Canada escape a lost decade? - Video of the January 26th 2012 event in Ottawa, organised by the Canadian Centre for Policy Alternatives.
What makes Jose Antonio Ocampo a good candidate for President of the World Bank - World Bank President Website - March 21 2012
Why critics are wrong about a financial-transaction tax with Avinash Persaud, European Voice - March 2012
Transforming the financial sector from a bad master to a good servant - Left Foot Forward - 16th Feb 2012
Press conference and Hearings in European Parliament on Financial Transaction Taxes - The News Market - 6th Feb 2012
Introduction of a financial transaction tax - Press conference, European Parliament - Press conference by European Parliament Vice-President Anni Podimata and Stephany Griffith-Jones - 6th Feb 2012
Interview by Carta Capital (In Portugese in Brazilian Publication) - December 28, 2011
Growth bonds a win-win for troubled eurozone - Financial Times - December 9, 2011
A three-step programme to re-civilise capitalism, with Michael Lipton and Robert Wade - The Guardian - 7 December 2011
The G-20's Helpful Silence on Capital Controls, with Kevin Gallagher and Jose Antonio Ocampo - Project Syndicate - Oct. 30, 2011
Extreme austerity to cause 'lost decade' - Interview in the Irish Times - 10 Oct 2011
A punto de estallar - El Pais - 25/09/2011
Interview in Folha de Sao Paolo - 20/08/2011
Los partidarios de un 'new deal' para salvar la zona euro ganan apoyos (translation: Proponents of a New Deal for the Euro Area) - La Vanguardia - 5th August 2011
What About Capital Controls on Outflows?, with Kevin Gallagher - Triple Crisis Blog - June 20, 2011
Controlling cross-border capital flows - The Korea Times - 25th April 2011
Damming Capital, with Kevin Gallagher and Jose Antonio Ocampo - Project Syndicate - April 19, 2011
A Modest Proposal for the G-20, with Joseph Stiglitz, Jose Antonio Ocampo, et al. - Project Syndicate - Apr. 1, 2011
The best alternative to a new global currency - Financial Times - 31 Mar 2011
Union role in dealing with crisis defended - Comment in the Irish Times - October 25 2010
Capital controls to deter hot money can help the world economy - Financial Times - December 17 2010
How the US can fix its QE2 problem, with Kevin Gallagher - The Guardian - 18 November 2010
Spotlight G20: The Missing Dimensions for the G-20 in Seoul: Hamlet Without the Prince of Growth - Triple Crisis Blog - November 10, 2010
The Movers and the Makers - The Broker - October 06, 2010
UK Economists Letter on Robin Hood Tax - The Guardian - 19 June 2010
La reforma de los mercados financieros (Article on Financial Regulation) - El Pais (Spanish) - June 2010
Exit strategies: choosing the right ways out of the crisis - European Parliament Press Release on hearing on Economic Exit Strategies held by the European Parliament special Committee on the Economic Crisis - 15/04/2010
O mercado e a barata - Interview in Brazil's Ideias Entrevista - 18th Feb 2010
Now let's tax transactions - The Guardian - 7th Dec 2009. Article on the Tobin Tax
"El mercado genera riesgo, no lo gestiona" Interview with La Vanguardia -15/11/2008
Self-Financing Development, with Jose Antonio Ocampo and Pietro Calice - Daily Times - Aug. 31, 2008
New bank rules must break the cycle - Financial Times - June 13, 2008
Fed must act in the spirit of Bagehot - Financial Times - March 26, 2008
A bond that insures against instability - Financial Times - July 2006
Encouraging Capital Flows in times of drought - The Banker - July 2003
A capital idea that will hurt poorer countries - Financial Times - May 2003
Latin America and the New Financial Architecture - Project Syndicate - Jun. 20, 2002
A country praying for tango and cash - The Observer - January 2002
Developing Further an Open Financial System: Volatility in International Financial Markets - UN Chronicle - 2002
Pivotal change at Doha - The Guardian - November 2001
Videos
Germany should spend more on investment and increase wages - Europe Calling Rome (#ec17rome) Conference - March 21, 2017


Keynote at FEPS Sorsa Foundstion Helsinki conference on Encouraging investment and Jobs in Europe - March 2015


Prof Stephany Griffith-Jones on the role of State-owned development banks - RTE News - May 28th, 2014 (go to link to watch video)
A short film of the interviews at TICAD V Task Force Meeting in June 2013 - includes Kingsley Y. Amoako, Yaw Ansu, Joseph Stiglitz, Jose Antonio Ocampo, Stephany Griffith-Jones and Akio Hosono.
Rethinking finance for development: Lecture by Stephany Griffith-Jones by Ids (Uk) on Mixcloud
More information on the above lecture can be found on the IDS website.
Transforming finance: banking for the real economy - The Guardian, May 2013 (go to link to watch video)
Robin Hood Tax to the Rescue? Live discussion on Al Jazeera - July 2012


Columbia's Griffith-Jones Discusses Libor Scandal Bloomberg - July 2012
LIBOR - Insider Trading on a Massive Scale - The Real News Network - July 2012